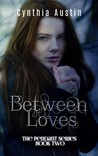 Between Loves
by
Cynthia Austin
My rating:
5 of 5 stars
Cynthia Austin
has done it again with her second book of the Pendant Series
Between Loves
!!!! I purchased the ebook version of this on August 19, 2015 and finished it in the same night! I read through 65% of the book and then set it down, I had so many other things to take care of.
After a a little bit, I had to finish it, I had to find out how Sidney was going to deal with Adrian and Ray! Her dreams were becoming more dark and disturbing and her relationship was growing with Adrian.
I want Adrian to be the 'good guy', I can't stand Ray.
I'm trying not to spoil any suspense for future readers so I'm going to leave the rest of the unfolding plot to your imagination!
This book has suspense, intrigue, love, hate, strong characters...even the ones I don't like:} and imagination. I loved it and I can't wait to read the final installment!
Thank you Cynthia Austin for transporting me, there is nothing better than sprawling out and being sucked into a book. You did it again!
View all my reviews